Iron Age torc necklace returns to Newark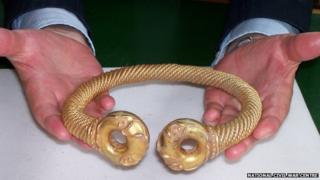 A solid gold necklace is to go on show for the first time in the town where it lay undiscovered for 2,000 years.
The torc, which dates back to 250BC, is made with 150ft (45m) of gold wire.
It was found in 2005 by treasure hunter, Maurice Richardson, in a field near his home in Newark, Nottinghamshire.
Since then it has been displayed in the British Museum, London and will be making its return to Newark in May.
The necklace, bought by the Newark and Sherwood District Council, for £350,000 is said to be one of the most significant pieces of Celtic artwork found in northern Europe.
"The day I found it I didn't expect to find anything. It was a horrible, wet afternoon in February," said Mr Richardson.
"So when I realised what I found I was speechless.
"To find something like that in the Nottinghamshire area is unheard of and it is now going to be a major part of the centre's exhibition."
The necklace will be on display at the National Civil War Centre when it opens on 3 May.
Michael Constantine, from the centre, said: "This torc is the second best one in the country and to have it back in Nottinghamshire where it was found is great.
"It is one of our highlights."