Domino's ends 'degrading' human billboards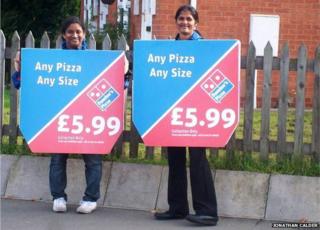 A pizza franchise has stopped using human billboards after a council complained they were dangerous and degrading.
Nottingham City Council had threatened to take legal action against Domino's Pizza if it continued.
Domino's will no longer use "wobble boarders" in the city but will continue with similar campaigns elsewhere.
The campaign has divided opinion, with some people finding the "pizzamen" annoying but others finding them funny.
Dancing around and waving
Richard Antcliff, the city council's chief anti-social behaviour officer, said: "We, as the council, have a strong view that this is degrading and exploitative.
"They were a dangerous distraction to drivers and obstructing the highway.
"They kind of dance around and wave at cars and buses, trying to get that high impact."
Mr Antcliff said the human billboards started appearing in Nottingham in 2011.
They went away when the council started taking action against them, but returned this month.
"A week last Monday Domino's turned up with 50 people with these boards, scattered around the whole of the county," he said.
The council warned some of the wobble boarders they were standing in "ridiculous places" that were a danger to themselves and others.
"They targeted the main arterial routes, busy junctions, busy roundabouts, where we had got a lot of traffic," he said.
£20,000 fine
Mr Antcliff met up with the regional director of Domino's on Wednesday, representing the city council and surrounding district councils.
The council threatened to issue a community protection notice on the grounds the campaign was having a "detrimental effect, of a persistent or continuing nature, on the quality of life of those in the locality".
Domino's could have been fined up to £20,000 for breaching the notice.
A statement said: "The wobble boarding activity ceased on Wednesday 11 March after discussions with the council."