Nottinghamshire Police concerned about veterans offending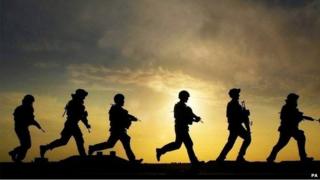 A police force is piloting a project offering support to armed forces veterans who become involved in crime.
Nottinghamshire Police says about 65 of the people arrested each month disclose a history of armed forces service.
The real number could be higher, and the force is working with military charities to offer them support.
Last year the government set up a review to investigate the causes of veterans turning to crime once they leave the forces.
Ministry of Defence figures suggested former service personnel made up about 3.5% of the prison population.
Kent Police has also raised concerns about the number of veterans involved in crime.
Ch Insp Kim Molloy, of Nottinghamshire Police, said: "I'm hoping it's going to make a massive difference. There's a lot of issues around alcohol, mental and physical health problems and homelessness.
"All those things are drivers for crime and if we can identify those veterans and try and get them help earlier, then we can try and keep them from coming back in."
Charities say people who served in the Falklands and Northern Ireland are still coming forward for help, and they predict large numbers of people who served in Iraq and Afghanistan will have problems in future.
Jason Rathbone from the Joint Forces Alliance said: "They've done their bit for the country. Where's their country's support for them?
"That can sometimes make them quite angry and that can then turn into violence, through drink."
Rick Harrington from Forces in the Community said: "When you come out into civilian life you sometimes want to feel that adrenaline rush. For some it could be extreme sports, for others it could be alcohol then into some form of violence."
Policing minister Mike Penning said more could be done to support veterans.
"Let's make sure they are well when they come out, so there's work that can be done there," he said.
"But very often this doesn't show for many years after they've served."