Nottingham Trent University vice chancellor tops pay table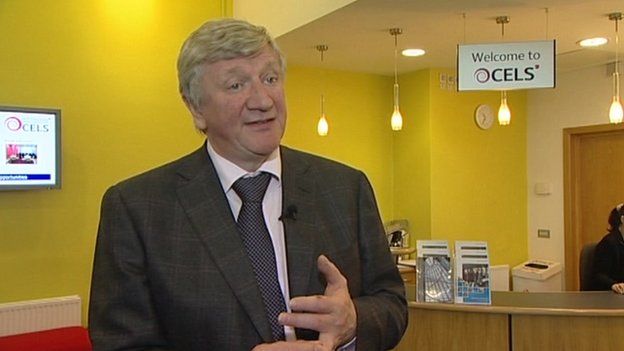 The highest paid university chief in the UK received a £623,000 salary and benefits package, the University and College Union (UCU) has revealed.
The outgoing vice chancellor of Nottingham Trent University, Prof Neil Gorman, earned £170,000 more than his next highest paid counterpart.
Nottingham Trent said the figure included benefits accrued over a five-year period.
UCU also requested a copy of the most recent minutes of remuneration committees that determine vice chancellor pay. Half the institutions (78 of 155) provided minutes in full or redacted form.
Sally Hunt, the UCU general secretary, said: "Many staff and students will be amazed at the size of vice chancellors' salaries.
"That this is happening in public institutions which are largely funded by the taxpayer and students makes the lack of transparency and accountability surrounding senior pay and perks a national scandal."
Vice chancellor pay 2013/14
Nottingham Trent University - Prof Neil Gorman - £623,000
London Metropolitan University - Prof Malcolm Gillies - £453,000
University of Oxford - Prof Andrew Hamilton - £442,000
London Business School - Prof Sir Andrew Likierman - £419,000
The Open University - Martin Bean - £412,000
University of Birmingham - Prof Sir David Eastwood - £410,000
University of Exeter - Prof Steve Smith - £400,000
University of Bath - Prof Glynis Breakwell - £395,000
London School of Economics - Prof Craig Calhoun - £394,000
University of Surrey - Sir Christopher Snowden - £392,000
Source: University and College Union Freedom of Information request
The UCU survey also highlighted spending on air fares, and hotels.
The vice chancellor of the London School of Economics spent almost £60,000 on flights and Glasgow Caledonian's head spent £27,271 on hotels.
Both universities said they had to establish links with international students and businesses.
Meanwhile, Universities UK said salaries were in line with those at universities overseas and comparable to similar sized businesses here.
'Continuity of leadership'
The UCU figures showed Prof Gorman's earnings increased 70% in 2013/14 from £366,000 in the previous year.
But Richard Bullock, chairman of Nottingham Trent's board of governors, said: "Professor Neil Gorman received a 2% salary pay rise in his final year as vice chancellor.
"The additional monies reported in this year's financial accounts were paid under a scheme that was instigated in 2008 to operate over a five-year period.
"This scheme was put in place by the board following independent, external advice, at a critical time in the university's strategic development which required continuity of leadership."
Nottingham Trent said its current vice chancellor Edward Peck's salary was £240,000.
Nicola Dandridge, chief executive of Universities UK, said the salaries of university leaders in the UK were in line "with those in competitor countries and comparable to similarly sized public and private organisations".
Related Internet Links
The BBC is not responsible for the content of external sites.