Operation Daybreak: More suspects in sex abuse inquiry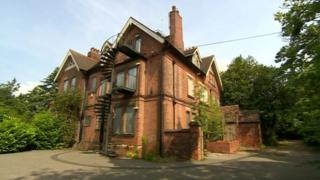 An investigation into historical child abuse at children's homes in Nottingham has led to 23 potential suspects being questioned.
Operation Daybreak has been looking into allegations of abuse against former residents from the 1960s.
The BBC has learned 22 men and one woman have spoken to police, with some of them arrested and others "interviewed under caution" at home.
Five men have been accused of abuse outside of the care system.
One of those is 61-year-old Ivor Bethell, who was charged with several sex offences including raping a girl under 16 and indecently assaulting a girl under 14, on Wednesday.
Beechwood children's home is one of six former children's homes in Nottingham, where allegations are still being investigated.
The others are Hazelwood in Nottingham, Bracken House in Bulwell, Wollaton House in Wollaton, Sycamore House in Sherwood and Greencroft in Clifton.
---
Operation Daybreak
Nottinghamshire Police's investigation, Operation Daybreak, which has seen 11 people arrested, has centred around the Beechwood care home in Mapperley
More than 100 complaints of abuse have been investigated, dating back to the 1960s
The force said it was "one of the largest" criminal investigations in its history with potentially more than 150 abusers
Actress Samantha Morton claimed in September 2014 she had been abused at Nottinghamshire care homes as a teenager. She was due to speak to police in October
PCC Paddy Tipping, a social worker in the 1970s, was interviewed as a witness in December
Information from an FOI request in May 2014 revealed the city and county councils had paid £250,000 in compensation to 26 former residents and a "significant" number of other claims were being considered
---