Rail worker prosecuted over colleague John Wright's death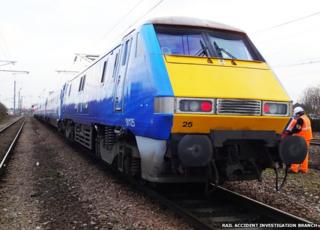 A former rail worker is being prosecuted after one of his colleagues was struck and killed by a train.
John Wright, from Doncaster, died in hospital nine days after the accident near Newark North Gate station in Nottinghamshire on 22 January 2014.
The Office of Rail Regulation (ORR) is prosecuting the "controller of site safety" (COSS) for allegedly breaching health and safety law.
A preliminary hearing is due to be held at Nottingham Crown Court in March.
The ORR said in a statement: "This was a devastating incident and our thoughts are with the family and friends of John Wright."
Mr Wright, 49, had worked on the railway for about 30 years, and was in a team of three people inspecting points on the day of the accident.
He was working as the "lookout" while a colleague was the "tester".
The third member of the team, the controller of site safety, was in overall charge of safety.
Mr Wright was struck at 11:34 GMT by a passenger train from London King's Cross.
He was airlifted to a hospital in Nottingham but died on 31 January.