Joy Pitts: Nottingham woman makes art from labels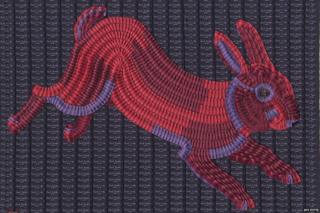 An artist has been getting recognition after turning thousands of unwanted clothing labels into works of art.
Joy Pitts, from Nottingham, collects labels from charity shops and clothes that are to be turned into rags.
Fashion icon Paul Smith is a fan of her work and last year one of her pieces was selected for the Royal Academy's summer exhibition.
Ms Pitts described being selected from 12,000 submissions as a "real eureka moment".
"I started experimenting with materials when I was at college," she said.
"The first piece I did was a shopping bag covered in labels and it won an award, then I did something similar and that won another award, as did my third piece."
But a turning point for her career was when Nottingham fashion designer Paul Smith commissioned her.
She said: "I sent him some photographs of my work asking for some labels because he's also from Nottingham.
"He said 'no but I want to commission you for my private collection'."
The works of art develop after she has taken pictures of her subjects.
The portraits of the bull and the woman originate from a farm in Leicestershire, with the latter being shown at the Royal Academy.
Her latest project is a portrait of the Queen to celebrate her reign.
It is made of World War One name tapes and took 110 hours of work just to put it together.
She said she is currently trying to find an exhibition place to officially unveil the portrait.