Girl in Nottinghamshire Police cell 'had no food or water for 44 hours'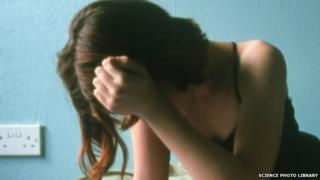 A 16-year-old girl in police custody went without food or water for almost two days , a report has found.
An inspection of Nottinghamshire Police's child protection work by HM Inspectorate of Constabulary (HMIC) found the teenager went without provisions for 44 hours.
The girl was being detained under the Mental Health Act.
The force said she was offered food and drink on several occasions but declined.
'Lack of awareness'
HMIC carried out an inspection of the force's child protection work in September last year.
Inspectors found significant delays in some child protection investigations and discovered that children were being unnecessarily detained in police custody overnight, the report said.
It also found there was also a lack of awareness of child sexual exploitation in some parts of the force, leading to an inconsistent response.
According to the report, inspectors found that staff responsible for managing child abuse investigations were highly committed, knowledgeable, and dedicated to providing good outcomes for children.
Zoë Billingham, from HMIC, said the area of significant concern was the detention of children in custody for their own protection under mental health legislation.
---
The 'scandal' of detaining mentally ill people in police cells
MPs have described the number of people with mental health illnesses being detained in police cells as a "scandal"
Currently, people detained under section 136 of the Mental Health Act 1983 can be held in a hospital or police station for up to 72 hours
Last year 236 children and about 6,000 adults were detained in police cells under section 136 because of a shortage of space in NHS hospitals
A Home Affairs Committee report has called for a change in the law so that police cells are no longer deemed a "place of safety"
It found there was a "clear failure" of NHS clinical commissioning groups to provide for children with mental health issues
The report also said police needed to ensure they used their powers in relation to mental health correctly, to reduce the numbers detained
---
She said: "The most serious case we found was where a 16-year-old-girl had been detained in police custody for 44 hours, before custody staff realised that she had gone without food or water. It is essential that the force takes steps to ensure that this never happens again."
"I encourage Nottinghamshire Police to act on our recommendations as a matter of urgency, and I have asked that within six weeks it provides me with an action plan to demonstrate how it will take forward our recommendations for improvement."
"It is clear that that despite good work in many areas, Nottinghamshire Police needs to do more to improve its approach to protecting children."
She said the practice of keeping children with mental health problems in police custody "has to stop".
'Lack of resources'
Det Ch Insp Helen Jebb said a new agreement with health partners meant that children (with mental health problems) would not be held in police cells from April.
National Society for the Prevention of Cruelty to Children (NSPCC) spokesman John Cameron said it was "very worrying" the teenager was detained "without appropriate medical assistance".
It was "totally unacceptable" she was detained in the central custody suite along with adults, he said.
"There is an appalling lack of resources to help children with mental health issues," he added.
Nottinghamshire Police's Assistant Chief Constable, Steve Jupp, said: "She was offered food and drink on several occasions while in custody but declined.
"Doctors and nurses assessed her welfare, and she was deemed to require specialist mental health assistance, and attempts were made over many hours to find appropriate accommodation."