Nottingham Prison not safe enough, says government report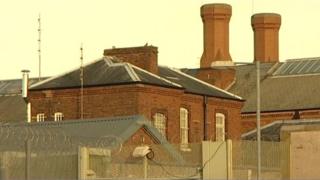 Nottingham Prison is not safe enough and conditions are poor, a government report has revealed.
The chief inspector of prisons published the findings after an unannounced inspection in September.
High levels of violence, including assaults on staff and inmates, barricade incidents and a hostage-taking, were among the concerns.
The National Offender Management Service said a new governor was in post and "rapid improvement" was expected.
Inspectors are due to return soon to assess the prison's progress.
HMP Nottingham, which dates back to the 19th Century and holds about 1,000 prisoners, had received a positive report from inspectors in 2010.
'Staff overwhelmed'
However, the more recent inspection raised significant concerns.
Nick Hardwick, the chief inspector of prisons, said HMP Nottingham was "failing in most of its core responsibilities".
He said: "The prison was not safe enough, conditions were not good enough."
Michael Spurr, chief executive officer of the National Offender Management Service, said the inspection took place during a difficult time but things have since improved.
He said: "A permanent governor has now been appointed and staffing numbers have increased and I'm confident that the action we have taken will deliver the rapid improvement that Nottingham requires."
Andrew Neilson, Howard League for Penal Reform campaign director, said: "Staff are being overwhelmed by the amount of work… and the pressure on them because of cutbacks."
Prison Reform Trust spokesman Mark Day said the report was "very worrying", adding: "Prisoners are simply locked in their cells for 23 hours a day with nothing to do."
The report comes less than a year after the Prison Officers' Association claimed officers at the prison were "getting assaulted on a regular basis" because of budget cuts, overcrowding and a lack of staff.
In July, an inmate was taken to hospital after reportedly trying to blind himself and about a week later a prison officer's ear was bitten off in an attack at the jail.
---
Nottingham Prison concerns
About 40% of prisoners reported victimisation by other prisoners
High levels of violence, including assaults on staff and prisoners
Several barricade incidents and a hostage-taking
Prison grounds were bleak and littered
Cells overcrowded and prisoner / staff relationships were deteriorating
---