Memorial for Hucknall and Linby miners unveiled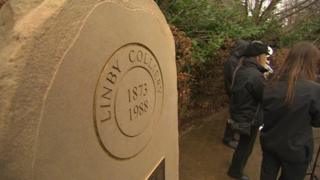 A memorial for 150 miners who died while working at three Nottinghamshire collieries has been unveiled.
The tribute was installed in Station Road, Hucknall, near the former site of one of the town's pits.
Organiser and former miner Barry Lewis, whose own father died on Christmas Eve in 1960, after an accident, said it took four years to get to this point.
Mr Lewis said: "Hopefully this will educate [people] that coal came with a price."
Three sandstone obelisks were lifted into place earlier.
A bronze plaque on each sculpture displays the names of the men and boys killed while working at Hucknall's Top and Bottom pits, and the nearby Linby Colliery.
Mr Lewis said the project began in October 2010 and about £10,000 was raised by local people and businesses.
Donations also came from Nottinghamshire County Council and Ashfield District Council.
"I'm glad we're at the end of it," said Mr Lewis. "At the beginning I didn't think we'd ever get to this stage. It's been a long haul.
"It's for the benefit of families of the 150 miners that were killed in the three pits."