World War One Christmas truce footballer honoured with plaque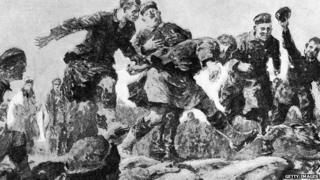 A soldier believed to have supplied the football for a Christmas Day game during a World War One truce, is being honoured with a plaque.
Pte William Setchfield was sent a ball as a Christmas present in 1914 while fighting in the trenches.
Historian Francis Towndrow, who has been researching the game, said the soldier, later labelled a "deserter", may have been punished for taking part.
The plaque is being unveiled in his hometown of Newark, Nottinghamshire.
Mr Towndrow has been piecing together information from soldiers' letters and diaries about the truce.
Shortly before Christmas 1914, Pte Setchfield's commanding officer, recorded that he received a deflated ball in the post as a gift.
The soldier's father and brother worked at a shoemakers in Newark which also repaired leather footballs, Mr Towndrow discovered.
Letters home to his family talked about his love of football and in particular his team Nottingham Forest.
'Enemies as friends'
One of Pte Setchfield's letter, reprinted in the Newark Advertiser at the time, read: "We spent a wonderful Christmas. The Germans came over to us in the afternoon and we had our photos taken with them but it would be a big task to put everything that happened into a letter."
Records show that his Royal Warwickshire Regiment was facing the German 134 Saxon Regiment at the time.
Kurt Zehmisch, from the Saxons, wrote in his diary in 1914: "The English brought a football from the trenches and pretty soon a lively game ensued.
"This Christmas, the celebration of love, managed to bring mortal enemies together as friends for a time."
Pte Setchfield survived the war, married and is recorded as having sent a wreath to his brother's funeral in 1946, but Mr Towndrow has found no death certificate.
His medal record shows he was awarded the 1914 Star but was recorded as a "deserter", for which he would have been court martialled.
Mr Towndrow believes this may have been his punishment for being involved in a game which the authorities at the time had frowned upon.
"Could it have been he was involved in that game so much that he was used as a scapegoat? We don't know."
In August, under-21 teams from Newark and its German twin town of Emmindengen replayed the game near Ypres, the original site.
The plaque is part of a community garden in Sconce and Devon Park, Newark, and has been donated by local stonemason Roger Brown.