Robin Hood 'Tree of the Year' lit up for Sherwood Forest event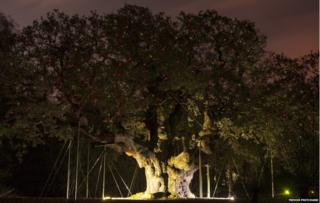 England's "Tree of the Year" has been lit up for an event celebrating 60 years since the forest where it stands gained a conservation status.
Legend has it that the Major Oak in Sherwood Forest, which is thought to be between 800 and 1,000 years old, sheltered Robin Hood and his Merry Men.
Last month it beat off competition from across the country to be voted Tree of the Year in a Woodland Trust poll.
It will now compete for the European title.
Light has been reflected up from the base of the tree to give the impression illuminations have been hung in its boughs and branches.
Other trees awere also lit up as part of a trail through Sherwood Forest Country Park to mark 60 years since it was given Site of Special Scientific Interest (SSSI) status.
The trees were lit from below as it would be too dangerous to hang them in the branches of the ancient oaks.
The park has been open to the public at night all weekend for the sell-out event called Sparkling Sherwood.
John Knight, from Nottinghamshire County Council which manages the site, said it has been a "truly magical start to winter".