Antifreeze cat deaths: Minister rejects idea to stop poisonings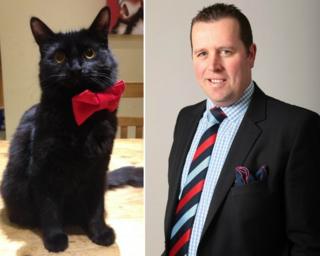 A minister has rejected calls to force antifreeze manufacturers to make their products bitter in order to prevent cats being killed from drinking it.
MPs debated the issue following the suspected poisoning of at least 22 cats in Calverton, Nottinghamshire.
Sherwood MP Mark Spencer asked Environment Minister George Eustice to "explore the mandatory inclusion of Bitrex" in antifreeze.
Mr Eustice said he would encourage manufacturers to add it voluntarily.
"Ultimately, if antifreeze included a bittering agent and if that deterred animals from taking antifreeze in any circumstances, that would still not deal with the problem of people deliberately setting out to poison cats and other animals," he said in the debate at Westminster Hall.
"They would simply find a different weapon of choice."
There are different opinions on why cats drink antifreeze. Some people believe they are attracted to the taste, while others believe they mistake it for water.
However, adding a bittering agent, which some manufacturers already do, makes antifreeze unpalatable for animals and also children.
Mr Eustice said people must take great care when handling antifreeze, as even small amounts spilt on the ground can be harmful.
He was also "concerned" to learn some people may be using it to stop garden water features freezing in winter, which could result in inadvertent poisonings.
However, most of the Calverton deaths happened in summer when antifreeze is not normally used.
The police and RSPCA are investigating what are thought to be deliberate poisonings. If a perpetrator is found they could be fined up to £20,000 and jailed for up to six months.
Mr Spencer said he had been "inundated on Facebook and Twitter with messages from people all over the country who are experiencing similar issues".
Cats Protection told him it had been monitoring media output since November 2012 and was aware of 1,197 reports of such poisonings.
Mr Spencer said: "The moments between consumption and death are very traumatic for the animal. Pet owners see unpleasant symptoms, such as vomiting, diarrhoea and extreme stomach cramps.
"Indeed, it is one of the worst ways in which a pet can lose its life."