Lost Evelyn Gibbs wall paintings uncovered and restored at church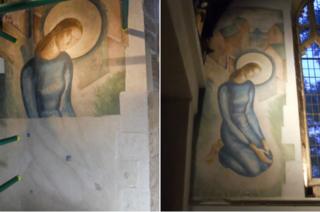 Murals of "national importance" by war artist Evelyn Gibbs have been uncovered and repaired as part of the restoration of a Medieval church.
The paintings were thought to have been destroyed during 1972 modernisations, but were discovered by electricians prior to the work starting.
A celebration event was held at St Martin's Church in Bilborough, Nottingham, on Saturday.
The Heritage Lottery Fund gave £744,100 towards the restoration.
Churchwarden Hilary Wheat said the wall paintings and the renovated church looked "stunning".
"The Medieval church is just beautiful; the paintings, the floor, the windows, the light. It's just really special," she said.
"It has been a lot of work but lots of people have contributed to it.
"People have really worked to make it a great place to come to worship and to come and have events; a place for the whole community really."
Evelyn Gibbs biographer Pauline Lucas previously described the project as "very exciting".
"So many murals have been destroyed and painted over and yet here is one that actually survived and is going to be restored," she said.
---
A Biblical scene in Nottingham
The paintings depict the Annunciation, when the Angel Gabriel told Mary she would bear God's son.
However, the location has been changed to Nottingham.
St Martin's Church itself is painted behind the Angel Gabriel and the old farm buildings of Bilborough village are behind Mary.
Further in the distance is Wollaton Hall, a mansion in Nottingham which featured as Wayne Manor in the Batman film The Dark Knight Rises.
---
The murals were painted at the church after Gibbs was evacuated to Nottingham in World War Two.
In 2009, they were discovered behind a false ceiling which has been removed as part of the restoration.
The lower thirds of the paintings, below the false ceiling, had been covered by two layers of emulsion.
Removing the emulsion could have damaged the murals, so these parts were re-painted following the original design.
---
Evelyn Gibbs, 1905 - 1991
Gibbs was working at Goldsmiths College in London when war broke out and she and her students were evacuated to Nottingham
In 1943 she formed the Midland Group of Artists
The group painted murals at five locations in the Midlands but the ones at St Martin's Church, completed in 1946, are thought to be the only to have survived
Gibbs was asked by the government to make drawings of women workers at the Raleigh bicycle works in Nottingham, which was then being used to make munitions
Several of her works are kept at the Imperial War Museum in London
Another wartime work, called the WVS Clothing Exchange, shows women and children at a clothing swap shop run by the Women's Voluntary Service
See more paintings by Evelyn Gibbs on the Your Paintings site.
---