Dentist Desmond D'Mello case: Pressure over patient letters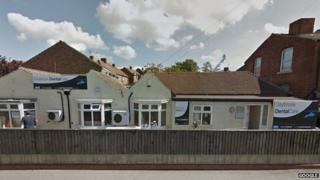 Health bosses are facing pressure to write to all the dental patients affected by fears over the hygiene practices of a Nottinghamshire dentist.
Only about 3,500 of an estimated 22,000 have so far come forward for blood infection tests, after concerns over a practice run by Desmond D'Mello.
The NHS said writing to every former patient could cost £300,000.
But local MPs Anna Soubry and Vernon Coaker said all available addresses had to be used to inform people.
Mr D'Mello, who ran the Daybrook Dental Practice, was suspended after he was covertly filmed appearing to fail to wash his hands and sterilise equipment between appointments.
NHS England said those potentially involved were at a low risk of infection.
Medical director of NHS England Doug Black has previously said he believes an announcement through the media would be the most effective way of getting the message out to people.
Only the 166 patients who were involved in the covert filming have been written to directly.
But Broxtowe MP Ms Soubry, Conservative, said: "I just think that NHS England locally need to step up and get on with it.
"Every effort has to be made to tell people and if that means writing to them, they've got to be written to."
Gedling MP Mr Coaker, Labour, said: "Because the issue goes back a number of years there will be some problems with [making contact with patients], but frankly that pales into insignificance against the possibility that somebody may be infected.
"They need to know and we need to do all we can so they have the option of what they wish to do in terms of their own health."
NHS England responded by saying Mr D'Mello's database was not available to it but it was investigating options for contacting the most recent patients.
The organisation has also postponed the headline results of the first batch of blood tests carried out on patients about two weeks ago.
Some patients have already been informed but some are still waiting like Angela Johnson, a former patient of Mr D'Mello.
She said: "We've found out we won't be getting the results of the tests. We've now got this added stress upon the stress of going for blood tests."
---
Analysis
Rob Sissons, East Midlands Today's health correspondent
NHS England are being vague about releasing the results. All I've been told is that they need another piece of information.
We have been expecting for two days the headline figures on the blood tests and we will not be told that today.
It wouldn't come as any surprise, and this was said at the outset, if some positive results [for blood-borne viruses] were found, nothing to do necessarily with the dentist.
The reason for that is HIV and hepatitis are out there anyway, people don't always have symptoms, for example.
So, if you're looking at trying to test 22,000 you will find some positives. It's going to be really difficult to say for sure whether they are linked to the dentist.
---