Brough Superior motorcycle breaks sale record at £315k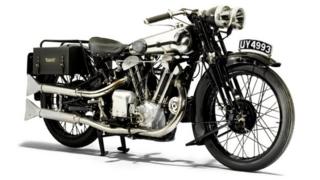 A motorcycle like those ridden by Lawrence of Arabia has set a new world record after selling for £315,100.
The 1929 Brough Superior 986cc SS100 Alpine Grand Sports is the most expensive Brough Superior to sell at public auction.
It has beaten the record set by a Brough Superior SS80, which sold for £291,200 in 2012.
Brough Superior motorcycles were built in Nottingham, at founder George Brough's factory in Haydn Road.
Paul d'Orléans, from vintage motorcycle site The Vintagent, said it was among the most expensive motorcycles ever sold at auction.
"George Brough was a genius of motorcycle design, and the SS100 is his masterpiece," he said.
"It's no surprise his machines fetch such prices."
He said Brough Superior SS100s were "the original superbike".
"Each was sold with a certificate guaranteeing it had been timed at over 100mph at the Brooklands racetrack," he said.
"No other motorcycle was sold with such a claim, and this was a remarkable speed for a road bike in the 1920s."
He said the second most expensive Brough Superior, the SS80, was "a very special machine" as it was George Brough's personal race bike, nicknamed Old Bill.
Ben Walker, director for Bonhams motorcycle department, said: "Brough Superior is a legendary marque in the motorcycle world.
"Coined the Rolls-Royce of motorcycles, their distinguished status is well-earned."
George Brough undertook the Alpine Trial - a gruelling reliability run - on an SS100 in 1925, resulting in the award of six cups.
The design of the Alpine Grand Sports took inspiration from this achievement, and it was introduced to the market in 1925 for the 1926 season.
World War One British army officer TE Lawrence, also known as Lawrence of Arabia, owned eight Brough Superior bikes.
He was killed in 1935 riding an SS100 he had named George VII.