Dentist Desmond D'Mello: Virus-risk patients get test results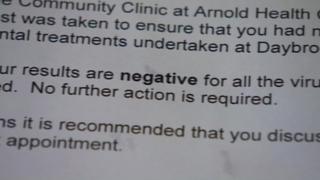 Thousands of dental patients tested for HIV and hepatitis as part of "the largest recall in NHS history" have started receiving their results.
Patients of Desmond D'Mello, who ran a practice in Daybrook, Nottinghamshire, were recalled over hygiene concerns.
Mr D'Mello was suspended this month after he was covertly filmed appearing to fail to wash his hands and sterilise equipment between appointments.
The NHS said it is not writing to all 22,000 patients because of the cost.
'Low risk'
Hygiene concerns came to light when a whistleblower contacted health authorities after filming covertly at the Daybrook Dental Practice in June, and Mr D'Mello was suspended by the General Dental Council.
NHS England said about 22,000 patients had been recalled, but they were deemed to be at low risk of infection.
Medical director of NHS England Doug Black said writing to every former patient would have cost £300,000.
"The conclusion that we came to was that an announcement through the media was the most effective way of getting the message out there," he said.
Old practice records are incomplete and many former patients will have died, he said.
By Sunday blood samples had been taken from more than 3,000 people at the Highcroft Medical Centre in Arnold, meaning only one in seven have been screened.
NHS England said it took 2,669 calls to its advice line between 12 and 23 November.
It is expected to reveal the first batch of results on Wednesday.
Beth Parsons, from Arnold, who received a negative test result, said: "I'm absolutely relieved, very pleased, very happy and I hope everyone gets one [negative result] as well.
"I'd like to think nothing will come out of this."
Her husband, John, said: "He [Mr D'Mello] was such a nice guy. You can't believe it, but that's it."
The new owners of the practice had renovated the property and addressed all concerns, the Care Quality Commission has said.