Fatal Retford flat fire: Residents still out of their homes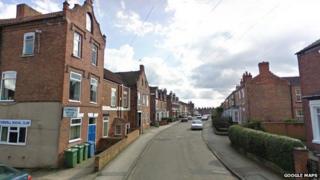 Residents whose flats were hit by fire are still in temporary accommodation as safety inspections take place.
One person died in the fire on Cobwell Road in Retford, north Nottinghamshire, on Friday.
Seven fire engines responded to the blaze in the converted Victorian property, which was badly damaged.
A joint fire and police investigation will continue after the building is made safe, but no cause has been determined yet, the fire service said.
Eight occupants of the flats and a neighbouring building were evacuated to a nearby leisure centre, Bassetlaw District Council spokesman Jonathan Brassington said.
Interim accommodation has been organised for some of them while others are staying with friends.
The damaged building does not pose a risk to safety at present, Mr Brassington added.
The victim of the fire has not yet been identified.