Ethsham Ghafoor taxi driver shooting death: Reward offered
A reward of up to £20,000 has been offered ahead of the 20th anniversary of a taxi driver's "targeted" shooting.
Ethsham Ghafoor, 26, was killed in the early hours of 22 November 1994 while sitting in his vehicle in Lambley Lane, Gedling, Nottinghamshire.
Police said they were open-minded as to the motive but believed Mr Ghafoor was being followed before his death.
His sister Aisha said the family had gone through "20 years of pain" made worse by not knowing why he died.
New CCTV and pictures have been released of Mr Ghafoor, who was known to his friends as Shami, working in the hours before the shooting.
---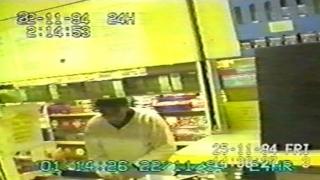 Ethsham Ghafoor murder timeline
00:15 - Fills up with petrol at Hilltop Service Station in Mapperley Plains (pictured)
About 00:15 - Buys water from another petrol station in Huntingdon Street (police unsure whether this was before or after petrol stop)
02:00 - Taxi seen driving on Colwick Loop Road
02:40 - Another taxi driver sees him in Carlton Square with three passengers
03:00-03:30 - Witnesses see his car parked in the Lambley Lane car park
03:30 - Witness describes hearing a shot
04:30 - Milkman finds him dead in his taxi
---
He had been shot twice, once in the head. The handgun used has never been traced.
His sister Aisha said: "He was our rock. We lost someone who was so dear to us. He would light the room and being without him is worse because of not knowing what happened.
"We have had 20 years of pain, surely we deserve some closure."
The original inquiry found he had told friends and family he thought he was being followed and he had been assaulted in the weeks before his death.
Eight arrests were made soon after, with three more in subsequent years, but no convictions were secured.
Det Ch Insp Tony Heydon, from Nottinghamshire Police, said: "Ethsham Ghafoor was targeted. Somebody hunted him down and they have shot him in such a way that they absolutely intended to kill him.
"He was having some disputes at the time of his death, he was probably being followed, but do we have someone specific in mind? No we don't.
"So we want to know - why was he shot?
"We want to hear from people who perhaps saw him on the night, saw his car parked. But, in addition to that, people who might have heard, credibly, what happened."
As part of the renewed investigation uniformed officers will be handing out leaflets particularly at mosques and taxi ranks and at shops in the area.
A team of about 30 detectives is reviewing evidence and re-interviewing witnesses.