Victoria Centre work noise drives residents 'insane'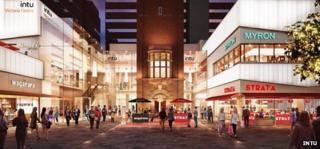 People living above a shopping centre in Nottingham have said its £40m improvement works have been causing them sleep problems.
Tenants claim builders are drilling beyond an agreed cut off point at the Victoria Centre, sometimes into the early hours of the morning.
A man who lives on the fifth floor said the noise is driving him insane.
Intu, who own the mall, said it was sorry and would bring forward a meeting to hear residents' concerns.
'Absolutely horrendous'
A council tenant, who did not want to be named, said: "You can't read, you can't watch TV, you can't even talk to each other.
"I found myself just shouting at the wall, it's just too much."
He claimed the drilling noise has been going beyond the agreed 22:00 GMT cut off point and once had to confront builders at 01:00 GMT.
Another tenant said he wanted Nottingham City Homes, who manage the flats, to put him in temporary accommodation while the work continues.
"It's been absolutely horrendous," he said.
"It's disgusting how Nottingham City Homes are treating their tenants, they've got no concern for us."
Nottingham City Homes said it was aware of residents concerns and is supporting them through an event to discuss matters with building contractor Laing O'Rourke.
It also said tenants should contact Nottingham City Council if drilling goes beyond the cut off point as the authority has statutory powers on noise pollution.
Intu said in a statement: "We are sorry to hear that some of the residents have some concerns and on the back of the comments raised, we're going to bring forward the date of the next meet-the-builder session to see if anything more can be done."
Nottingham City Homes said there about 700 tenants who live in the Victoria Centre flats.
The works are due to be completed next year.