Nottinghamshire Police website hacked by AnonGhost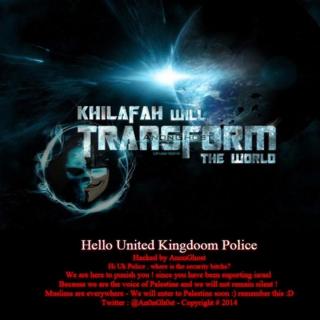 A police force's website has been hacked by a group claiming to be the "voice of Palestine".
Nottinghamshire Police website was replaced with an image and the words Khilafah will Transform the World, while music including Mike Oldfield's Tubular Bells plays on a loop.
The group calling itself AnonGhost says: "Hello United Kingdoom Police".
Police said they had removed the picture, which came down after about 45 minutes.
It is not clear why a UK regional force was targeted.
The image carries a misspelt message: "We are here to punish you ! since you have been suporting israel because we are the voice of Palestine and we will not remain silent!"
The image appeared on the website shortly before 14:30 GMT on Friday and was replaced with a blank space at about 15:15.
Professor John Walker, an internet security expert at Nottingham Trent University, said hacking a site was a "fairly straightforward thing to do".
"They find vulnerability in sites, they inject their own bits of code or content and they embarrass the organisation," he said.
"If it can be brought down this easily there are questions there."
But he said the "hacktivists" were unlikely to have found any sensitive information.
AnonGhost said on a website it had also hacked the University of Kentucky and websites of the governments of Myanmar and Senegal.
Earlier this week the Keighley Cougars rugby team's website was hacked and replaced with a page featuring the message: "I love you isis".
In October, a man from South Shields was arrested after Durham Police website was hacked, although specific details have not been released.
The server was targeted on 19 October, but the force said that in the interests of security it could not give details.