Late-night Nottingham tram works keeping people awake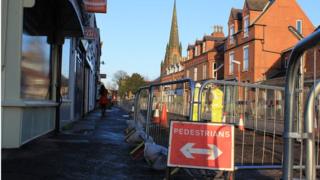 Residents have complained that late-night tram works along a busy high street are keeping them awake.
People living on the route of the Nottingham tram extension through Beeston and Chilwell said noise and flashing lights went on as late as 01:30 GMT on Tuesday.
The contractors have apologised for not warning residents in advance.
Last month, it was revealed the extension's opening date had been pushed back four months.
Kate Pearson, of Chilwell Road, said she felt "angry" and "let down again".
She said she tried calling out-of-hours helplines but there was no answer.
"I think it's rude, I think it's lacking consideration for residents - a complete lack of compassion for residents' thoughts and feelings." she said.
'Bang, bang bang'
Yvonne Hardwick and her son Samuel were woken by cones being thrown out of a van, beeping lorries reversing and amber lights coming through the curtains at 01:15.
She said: "They tend to park right outside our front door and leave their engines running and then talking in loud voices.
"You just lay down in the bed and it's bang, bang, bang with the cones."
Contractor Taylor Woodrow Alstom confirmed that track surveying work was carried out on Chilwell Road on Monday night.
"Notification is always required if work involves plant or machinery. However, given that this work did prove to be noisy we should have notified residents in advance and we apologise for this and for the disturbance caused," a spokesman said.
Nottingham's £570m tram extension, which has been hit by a series of delays, may not open until April, rather than the last-given date of December, a city councillor revealed last month.