St Edmund Campion head Dorothy Longley departure 'confidential'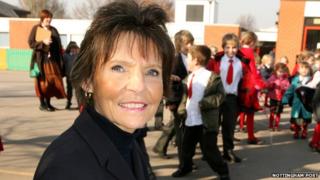 The trust behind a top school where a head teacher has resigned says the reasons for her departure will not be revealed due to "confidentiality".
Dorothy Longley was suspended in January from St Edmund Campion School in Nottinghamshire over "serious allegations of gross misconduct".
Since then parents have criticised the trust's secrecy over the situation.
South Nottingham Catholic Academy Trust (SNCAT), which runs the school, said further details would not be released.
Mrs Longley worked at the primary school in West Bridgford for 20 years, during which time it was rated "outstanding" by Ofsted and named one of the country's top schools.
The SNCAT announced on Monday it had accepted her resignation ahead of a disciplinary hearing.
Parents said there had been a "witch hunt" against her and alleged a "clash of personalities" caused her suspension.
Former governor Chris Hoban said Mrs Longley had been advised by her lawyers not to speak on the issue.
He said: "The trust should put them [the allegations] out in the public domain.
"She has not been given a chance to clear her name."
The director of education at the Nottingham RC Diocesan Education Service, Gail Neil, said: "Unfortunately, for legal reasons, we cannot give details about the allegations.
"Nothing has been brushed under the carpet. We have made sure all of the issues have been addressed or resolved."
Father Andrew Cole, spokesman for SNCAT, said: "For confidentiality reasons between the employer and the former employee, we will not be releasing any further details."
The school was rated "inadequate" by Ofsted inspectors in February after leadership and management issues were highlighted following Mrs Longley's departure.
A Department for Education spokesman said: "We have repeatedly demonstrated that we are not afraid to take swift action and are working with the trust to drive up standards."