St Edmund Campion head teacher Dorothy Longley resigns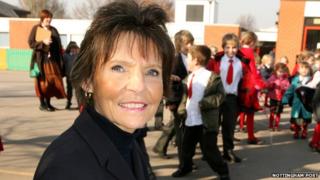 The head teacher of a Nottinghamshire school who was suspended after serious allegations were made has resigned ahead of a disciplinary hearing.
Problems first began at St Edmund Campion School in January when Dorothy Longley was suspended from the post.
A month later the school previously rated "outstanding" by Ofsted inspectors was graded as "inadequate".
South Nottingham Catholic Academy Trust (SNCAT) said it hoped the school could now "move forward with confidence".
The trust, which runs the primary school in West Bridgford, also dissolved the governing body following the head's suspension.
Mrs Longley had been at the school for 20 years, during which time it had been named as one of the top four schools in the country.
'Serious allegations'
On Monday, SNCAT said it accepted Mrs Longley's resignation.
Spokesman Father Andrew Cole said: "A number of serious and credible allegations relating to Mrs Longley's conduct as head teacher of St Edmund Campion School were brought to the attention of SNCAT, a number of which, if proven, would have amounted to gross misconduct.
"The subsequent disciplinary investigation confirmed a significant number of the allegations could be substantiated and they were sufficiently serious to warrant proceeding to a disciplinary hearing for a panel to decide whether the allegations were proven and whether disciplinary action should be taken."
He said Mrs Longley resigned with immediate effect and the hearing would no longer take place.
Parents at the 400-pupil school previously complained about a "wall of silence" from the trust over Mrs Longley's removal.
They said only two emails had been sent - one to confirm her suspension and another to state no more details would be released.
In July, Ofsted said the school was now "making progress" and the acting head had been working "effectively and urgently" to turn it around.
The trust said Moira Dales will continue in the role until a new head teacher is appointed.