The Malt Cross in Nottingham opens after £1.4m refit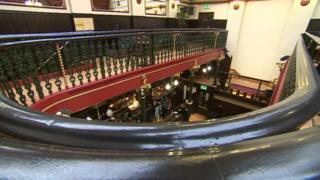 A historic pub which was a former Victorian music hall has reopened after a £1.4m renovation to expand into underground floors and caves.
The Malt Cross, in Nottingham, had its basement levels and caverns turned into a music and arts venue.
Heritage worker Rebecca Wood said the new facilities are for the community to take advantage of.
The original staircase, dating back 137 years, was uncovered during the renovation.
Jo Cox Brown, chief executive of The Malt Cross, said: "The staircase has been blocked off for the best part of a hundred years behind a wall but now we've opened it to the public again."
The space beneath the city centre pub has been converted into recording studios and an art gallery.
Ms Wood said: "It's an exciting way of reaching out to the community and developing our arts programmes. It's a sustainable way of supporting both artists and musicians."
Charlie Chaplin is said to have appeared at the old music hall, which fell into disrepair before being restored in the late 1990s.
It is now run as a social enterprise by a Christian charity who were given £1.38m by the Heritage Lottery Fund to carry out the renovation.
The caves beneath have been recorded at the site since the 11th Century, when a Carmelite monastery stood on the site.
They have been cleared and made safe in order for heritage tours to take place.
They will also be used for whisky and wine tasting, and film nights.
Items dating back to the Victorian era like a barrel holder, pan, watch and matchboxes, were found in a well that is at least 40ft (12 metres) deep.