University of Nottingham laboratory fire was not arson, police say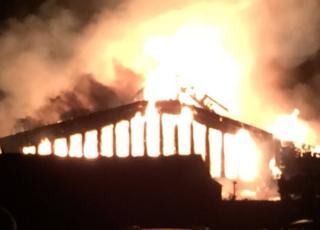 A fire that destroyed an unfinished £20m university building was not started deliberately, police have said.
The wooden framed GlaxoSmithKline laboratory at the University of Nottingham burnt down last month.
Nottinghamshire Police officers said they had concluded their investigation and ruled out any criminality.
The fire service said it could not reveal the exact cause until a Health and Safety Executive investigation was over.
Sixty firefighters tackled the blaze at the carbon neutral building on the university's Jubilee Campus in Lenton, which was due to open next year. No-one was hurt.
Police said they "found no evidence of arson, whether reckless or deliberate".
A Nottinghamshire Fire and Rescue spokesman said the service had also concluded its investigation and agreed with the police it was not arson.
The Health and Safety Executive said shortly after the fire it was looking at construction working practices on site but stressed this was routine in such cases. Its investigation would take "some time", a spokesman said.
University bosses have said the facility will be rebuilt.