Sherwood Forest photographic exhibition to celebrate anniversary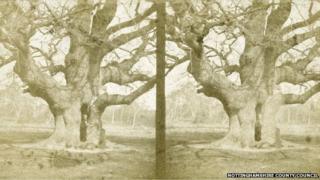 An exhibition to celebrate 60 years since Sherwood Forest was classified as a site of special scientific interest (SSSI) is to be held.
Nottinghamshire County Council has a collection of historic pictures of the woodland which it will put on display.
But it is also interested in any photographs the public own that could be exhibited.
The forest was designated an SSSI because of the number and quality of oak and birch trees.
The exhibition, held in conjunction with the Sherwood Forest Trust, will take place in December and several pictures are already lined up.
These will include photographs from the early 20th Century when the first supports were placed on the Major Oak, tourists arriving in the 1920s and the Olympic flame as it passed through the county.
Councillor John Knight said: "The stereoscopic image is particularly interesting as it is one of the earliest photographs we have on record of the Major Oak and we hope it can help inspire people to look back through photographs they have."
Stereoscopic images
A stereoscopic photograph is one taken with a camera with two lenses which, when seen through a special viewer, gives the appearance of a 3D image
They were popular in the Victorian era as a form of "parlour travel" around the British Empire but were also used in the Second World War for reconnaissance photos
They remain a children's favourite today and the Viewmaster remains an iconic toy