Football stadium drones put 'lives at risk'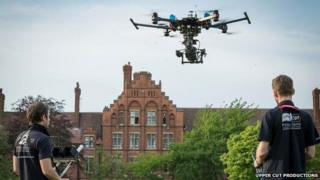 Flying drone cameras over football grounds poses a safety risk and could endanger lives, a business that specialises in aerial filming says.
The Civil Aviation Authority (CAA) is investigating after remote-controlled aircraft flew over stadiums in Nottingham and Derby during matches.
Upper Cut Productions said too many people were treating drones like toys.
One drone pilot, who does not want to be named, said he believed he was following CAA rules.
Jordan Brooks, a producer with the Nottingham-based company, which has filmed with the BBC, Discovery Channel and ITV, said he felt "frustrated" after seeing the stadium footage appear on YouTube.
---
Drones and the law
Unless CAA permission has been granted the pilot cannot:
Fly over or within 150m (492 ft) of a congested area
Fly over or within 150m (492 ft) of a organised open-air assembly of more than 1,000 persons
Fly within 50m (164 ft) of any vessel, vehicle or structure which is not under the control of the person in charge of the aircraft
Fly within 50m (164 ft) of any person
Source: Civil Aviation Authority
---
"Safety is our number one rule," he said. "The CAA offer so much guidance about not flying over people.
"They are built to hold heavy cameras and they could seriously hurt or kill somebody."
Mr Brooks said it could also affect the aerial filming industry in the UK should there be an accident.
It comes after the halting of the Euro 2016 qualifier in the Serbian capital Belgrade on Tuesday night, when a drone carrying an Albanian flag was flown over the stadium, sparking a brawl.
CAA rules state that hobbyists can fly drones without a licence, as long as they are not doing it for commercial reasons, and stick within their regulations.
The unnamed drone pilot, who posts videos to his YouTube Channel PV2+ Adventures, and flew near Meadow Lane, the City Ground and the iPro Stadium, told the BBC he did not believe he had broken any rules.
He said on Thursday: "I think the rules say you have to be more than 50m from built-up areas and that's at take off."
However, Mr Brooks, who said he had turned down contracts which require filming over congested areas due to safety, said the man had misinterpreted the CAA regulations.
Derby County, whose stadium was featured in a film, said it was "concerned" about the drones and upset that permission had not been sought.
A spokesman said: "The recording of live match action contravenes Football League rights access but of more concern is the danger posed by the drones so close to a football stadium with over 20,000 people in it."
Notts County also raised safety and commercial concerns and said while the footage is "impressive", the use of drones was "something that needs to be addressed."
The Football League has raised the issue with the CAA regarding the issues of safety and filming rights.