Greek island death: PM helps Nottingham family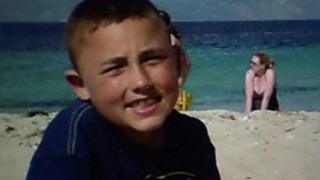 Prime Minister David Cameron has intervened on behalf a Nottingham couple whose nine-year-old son was killed while on holiday in Greece.
Jamie Leek died after he was hit by a motorcycle while crossing the road on the island of Zakynthos in 2012.
The motorcycle rider has not yet been prosecuted.
Mr Cameron wrote to the Greek authorities urging them to speed up the prosecution and a trial date has now been set for May 2015.
'Slow pace'
Jamie was crossing the road with his father to get an ice cream on his ninth birthday when he was hit by a motorcycle. He died later in hospital.
Chris and Lydia Leek, of Clifton in Nottingham, said they were "amazed" by the prime minister's intervention.
"I am over the moon that we are finally going to get justice for Jamie," Lydia said.
"I want to look the man in the eyes and see if he is sorry for what he has done."
In a letter to the family, Mr Cameron said: "From my own experience, I know that the pain of losing a son is something that no parent should have to bear.
"I am very sorry to hear that the slow pace of the judicial system in Greece has made this even harder and I have looked into what can be done to help."
Mr Cameron's disabled son Ivan, who had cystic fibrosis and epilepsy, died in 2009 at the age of six.
The Leek's lawyer Costas Andrea said: "The Greek courts are very slow. It takes a very long time and if left to their own devices we might be waiting another year or even two.
"It does seem that the pressure the prime minister has brought through the consular channels has speeded up the criminal proceedings in Zakynthos."