Sherwood Forest Hospitals Trust's PFI bill revealed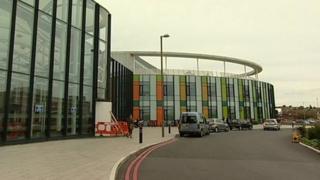 A troubled NHS trust is spending £3.56m a month - 16% of its budget - on a private finance initiative (PFI) project, documents have revealed.
Sherwood Forest Hospitals Trust, which runs two hospitals in Nottinghamshire, is in special measures because of higher-than-expected death rates.
County councillor Jason Zadrozny said it was a disgrace that £2.5bn was being paid back for a £300m hospital.
The trust said it was discussing the contract with the government.
In 2005 it signed a PFI agreement to build King's Mill Hospital in Sutton-in-Ashfield, refurbish Newark Hospital and run some services until 2043.
The initial cost was £976m but in 2012 it was revealed that had doubled to £2bn and it has since risen again.
PFI schemes allow private organisations to pay for and provide public sector capital projects such as hospitals, schools or prisons.
Liberal Democrat Mr Zadrozny, who submitted the latest Freedom of Information request, said: "The building cost £300m to build - we are now paying back £2.5bn.
"That means, in the last two years the cost of the PFI has risen by more than the cost of the building itself."
He said most of that extra money was loan interest, on top of expensive maintenance contracts.
"Just a plug being changed is costing upwards of £600. Those are the sorts of things that are prohibitive," he said.
'Money over care'
Finance managers estimated the cost of debt and interest repayments at £783m while service charges, which includes building maintenance, catering and cleaning, will be £1.7bn.
Mr Zadrozny is now lobbying the government to intervene.
The trust was one of 11 placed in special measures last year following a review in light of the Stafford Hospital scandal and in July, health secretary Jeremy Hunt said it would remain so until the end of the year.
In a separate investigation, it was criticised by the Care Quality Commission for "prioritising money over care" after mistakes were made in breast cancer treatments.
Paul O'Connor, trust chief executive, said: "It is true the costs associated with the PFI contract remain expensive but the facilities on offer to patients and their families at our hospitals are some of the best in the country.
"We continue to proactively manage the costs related to our PFI and are in discussion with Monitor and the Department of Health to achieve a permanent solution."