Sherwood Forest visitor centre plans 'more hot air'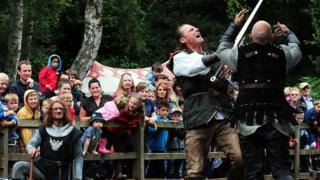 Plans for a new Sherwood Forest visitor attraction have been dismissed as "more hot air", by a voluntary group.
A series of schemes to replace the current 1970s structure - including a castle-based theme park - have failed.
The county council has now said it was looking for new private partners and more than doubled its proposed contribution from £1.8m to £4.3m.
Friends of Sherwood Forest said with no concrete action yet taken, the council should wholly take the project on.
The current visitor centre was built in 1977 and is regarded as outdated. At one point it attracted about 750,000 people a year but currently welcomes less than half that number.
A series of plans, including a bid for £50m for lottery cash, have not seen any success.
The last project, a £13m theme park, was abandoned by the county council when a private company could not secure investment.
'Demonstrate integrity'
Adrian Wilson, founder of The Friends of Sherwood Forest said: "You have to look at the track record of what has happened, they have just gone from one scenario to another.
"They have not yet put a single piece of paper in regarding planning and we have been left deflated so many times in the past so at the moment it is just more hot air.
"What I would like to see the council to demonstrate some integrity and to use the land they already have get on and build it."
But, county culture committee chair John Knight insisted a "broad vision" would allow new private partners to come up with innovative ideas.
"It's not just about how much money they are going to put in, it is about the imagination that goes into the bid.
"The trouble with the last bid was, while it looked absolutely brilliant on paper, it stayed on paper."
A decision is due next summer.