Robin Hood Marathon runner Duncan Edwards in coma two weeks after race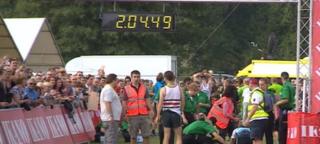 A man has been in a coma for almost two weeks after collapsing from dehydration at the finish line of a half marathon.
Duncan Edwards, aged 27, from Hucknall, Nottingham, took part in the city's Robin Hood Marathon on 28 September in memory of his father.
He remains in a serious condition at Nottingham's Queen's Medical Centre.
This week friends posted messages of support to Mr Edwards on social media to help his chosen charity, Guide Dogs UK.
Friends wrote on Facebook: "As Duncan crossed the finish line he collapsed and was rushed into hospital in a critical condition.
"He is currently in an induced coma until his body recovers enough for him to be woken up in a more stable condition.
"When Duncan wakes up, we would love nothing more than for him to be in a healthy condition and be safe in the knowledge that he had smashed his fundraising goal in honour of his father."
Mr Edwards had been running to raise money for the charity his father, Gary, supported before his sudden death in May.
He set himself a target of raising £500 but donations have increased to more than £1,500 since the event.
Organisers, Sweatshop, said about 163 people were treated by medics at the event.
Since the event, some runners have criticised the plastic water pouches handed out to runners, which they said were difficult to open with sweaty hands.
Experienced racer Dean Hallam told BBC Radio Nottingham there was a lack of water available at this year's event.
He said he was struggling to move his arms and legs and collapsed in the final mile from dehydration.
Sweatshop declined to comment on the claim but did say the amount of water provided met requirements under its licence with British Athletics.