University of Nottingham students' necrophilia chant criticised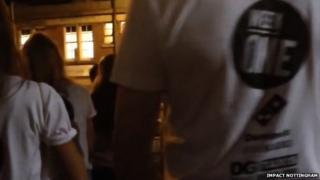 Students who chanted about violence and necrophilia have been criticised by two sponsors of a university's student union's freshers' week.
The University of Nottingham group's chant included the line: "Now she's dead, but not forgotten, dig her up and **** her rotten."
Nottingham-based DG Taxis and Domino's Pizza have both condemned the video which was uploaded on 3 October.
The student union's president said misogyny had no place on campus.
'Hall rivalry'
Logos for the two firms can be seen on the T-shirts of a mixed group of people engaging in misogynistic chanting about having sex with a woman in a video published on YouTube.
According to Impact, the university's student magazine, the students were from Cavendish Hall, an accommodation block on campus.
DG Cars said in a statement: "We are disappointed that the students indulged in this indecent behaviour, but we are confident the university and the student union will take any appropriate action required."
A Domino's Pizza spokeswoman condemned the chanting and said: "These T-shirts are linked only to freshers' weeks and in no way are they a form of sponsorship of this activity shown on YouTube."
A third-year student, who did not want to be named, told the BBC misogynistic chanting between halls had been going on for a number of years.
She said during her first year she was part of a group taken to a secluded spot and taught a song about sex with women, which they were warned not to repeat.
Ruth Greenburg, from the Nottingham Feminist Action Network, said such chanting should never be seen as a bit of fun and only created an atmosphere where misogyny was deemed acceptable.
The union said it was investigating whether student representatives, who are believed to have led the chanting, had breached its code of conduct.
Harry Copson, student union president, who has started an investigation into the chants, said: "There is no place for misogyny or offensive behaviour on our campuses, and we are doing all we can to both prevent such behaviours."