Jailed dealer Peter Shaw posed for drug photos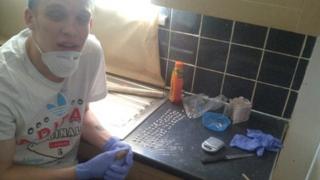 A drug dealer was caught out by his "own ego" after letting his friend photograph him preparing crack cocaine.
The images showed Peter Shaw, from Nottingham, handling and preparing large quantities of drugs and cash.
The 22-year-old was jailed for more than three years after officers discovered 33.4g of the class A drug in a wheelie bin outside his house.
Det Con Steve Fenyn said Shaw's conviction was helped by his ego after he was "caught in the act on camera".
Gloves and Rizlas
Shaw was sentenced at Nottingham Crown Court on Monday after pleading guilty to possession with intent to supply.
He was arrested in July 2013 when police found three mobile phones at his house which contained images of him with large quantities of cash and drugs, as well as handling and preparing the drugs.
Scales, deal bags, rubber gloves and Rizla papers were also among equipment recovered.
DC Fenyn said: "The case against Shaw was helped by his own ego which saw a mate photographing him committing the crime.
"He was literally caught in the act on camera.
"We are pleased to see that this time Shaw's selfish actions have caught up with him and landed him with a jail term."