Child migrants Nottinghamshire memorial rededicated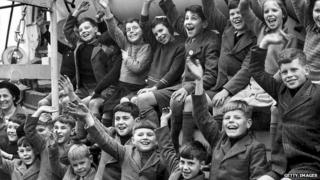 A memorial to children from care homes who were shipped from Britain across the world has been rededicated.
After World War Two about 4,300 children went to Australia, Canada, New Zealand and Rhodesia (now Zimbabwe).
They were sometimes physically and mentally abused and contact with their families was deliberately blocked.
Former child migrants attended the ceremony by the River Trent in Nottingham in which a plaque taken down in 2009 was replaced.
While the scheme was running, families were often told children had been rehomed in Britain.
Some children were told they were orphans and checks on their welfare were limited.
The story was uncovered by then Nottinghamshire County Council social worker Margaret Humphreys in the 1980s.
'A brutal regime'
Ms Humphreys, backed by the council, set up the Child Migrants Trust, which worked to establish the identities of the children and reunite them with their families.
Her story was turned into the film Oranges and Sunshine in 2011.
She said: "It was the cruellest, lie, deception of all. It is without doubt the worst childcare scandal in post war history."
In 2009 an information board about the issue, entitled "Britain's Shame", was removed by the then Conservative-controlled county council as it wanted to portray a "positive" image of the area.
Ms Humphreys and Norman Johnston, president of the International Association of Former Child Migrants and their Families, are now calling for a judicial inquiry into the abuse.
"What went on in these places was debauchery, starvation and a total lack of love and affection for children.
"It became a brutal regime," said Mr Johnston, who was sent to Australia when he was seven.
"It was sad they had such rein and were able to inflict such pain and terror on British children over a long period of time.
"Child migrants and our families across the world owe a great debt of gratitude to Nottinghamshire.
"When no government was prepared to face up to their responsibilities, Nottinghamshire carried the torch on the scandal of child migration."