Nottingham pubs close early to avoid light night levy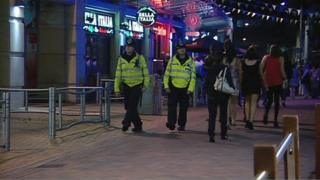 About 80 bars and pubs in Nottingham have planned to close early to avoid paying a levy towards policing.
The city council approved the move in July after complaints from police about the £1.5m annual cost of dealing with revellers in the city.
The charge varies from £200 to £4,500 a year and applies to licensed premises open between midnight and 06:00.
Ben Reader, a manager at The Company Inn owned by Wetherspoons, said it was an "unnecessary expense".
'No death knell'
He said: "It just wasn't working for us... [we're] not making anymore money on it, basically.
"We just decided to not pay it."
He added he did not see enough of a police presence around the Castle Wharf area, where the pub is situated, to justify paying the levy.
Peter Moyes, from the Nottingham Crime and Drugs Partnership said: "The average business is going to be paying between £2 and £3 a night to stay open.
"[The] contribution is not going to be the death knell of those businesses."