Ash dieback confirmed in Nottinghamshire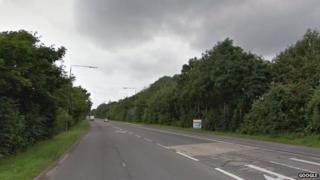 The first case of ash dieback disease in Nottinghamshire will result in thousands of trees on a major road being chopped down.
County Hall confirmed the fungus on Colwick Loop Road, near Nottingham, and said it could result in the loss of up to 40,000 of its trees over five years.
But the total number is much greater with many more on private land.
The council will next week be asked to approve £500,000 for immediate work and a backlog of maintenance.
The discovery of ash dieback on the road was made in August with samples sent to the Forestry Commission later confirming initial fears.
Ash dieback
Ash dieback is caused by the fungus Chalara fraxinea
Symptoms include leaf loss and crown dieback
It was first recorded in Europe in 1992 and appeared in the UK in March 2012
Colwick Loop Road, which runs round Carlton, has thousands of trees and bushes, planted to shield the view of industrial units.
It is estimated up to 80% of specimens along the road, up to 5,000, will have to go to prevent the spread of the deadly fungus but in the long term more will be felled.
"In total over the next three to five years the county council might [have to cut down] up to 30,000 to 40,000 trees," Dave Simpkin, the council's forestry manager said.
"However, land owners, parks, cemeteries, housing trusts, the railway, hospitals, they all have ash trees. The impact locally really will be quite considerable."
As well as the ash, the council suspects Dutch elm disease has spread to the county, and it has a backlog of maintenance following cuts to its budget.