Nottinghamshire funding boost for 'bed-blocking' scheme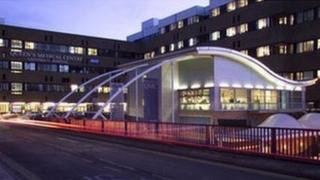 A scheme to cut "bed-blocking" in two of Nottinghamshire's hospitals has been given a £1m funding boost.
Bed-blocking refers to elderly patients who remain in hospital after their treatment is complete because there is nowhere suitable for them to go.
The extra money will pay for interim care, such as two-week care home placements, while longer term recovery plans are arranged.
Nottingham City Hospital and the Queen's Medical Centre are taking part.
Dr Guy Mansford, chief clinical officer at the NHS Nottingham West Clinical Commissioning Group, which plans local health services, said: "We have a crisis of pressure in our hospitals.
"We need to get our heads around the idea that when you admit someone, you need to plan their discharge."
---
What is bed-blocking?
When an elderly patient is taking up a bed, no other patient can be admitted for routine surgery or emergency care, blocking the flow of patients through the hospital
When these patients leave hospital, they become the responsibility of external agencies, other than the NHS
This means there can be bureaucratic hurdles to overcome as responsibility for the patient moves from one agency, with one budget, to another
Delays can stem from financial disputes, long assessment procedures or problems accessing the right kind of care for the patient
---
Rob Heywood, director of operations at Nottingham's Queen's Medical Centre, said: "It's really important to maintain hospital flow. For everyone admitted, we need to make sure someone goes home."
In a report to Nottinghamshire County Council, Rushcliffe Clinical Commissioning Group states: "Evidence shows patients have a higher level of success of recovery and for gaining their independence, once they are out of hospital and in another setting such as a community hospital."
Nottingham West, Nottingham North and East and Rushcliffe Clinical Commissioning Groups (CCG) have made the extra funding available for the scheme.