Greenpeace occupy coal train outside Cottam power station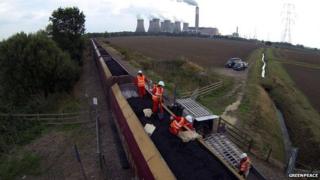 Greenpeace activists halted a freight train carrying 1,500 tonnes of coal to a power station.
The freight train was heading to Cottam power station in north Nottinghamshire when 50 people flagged it down.
A large polar bear model was later placed on tracks to block them, cutting off the main supply route to the power station, the group said.
British Transport Police said it was talking to campaigners and "facilitating a peaceful protest".
The activists said they had enough food and water to occupy the train for the one-day UN climate summit in New York.
The group used industry standard flags to stop the train in a sidings.
Will McCallum, Greenpeace UK climate campaigner, said in a statement: "We're doing exactly what leaders in New York and here in the UK should be doing, which is to stand in the way of the massive damage to our health and climate inflicted by coal."
A spokesman for British Transport Police said: "We were called to a crossing at Westbrecks Lane in South Leverton, Retford at 14:45 BST on Tuesday following reports of a number of protestors, believed to be from Greenpeace, halting the progress of a coal train."
EDF Energy, which runs the site, said the protest did not affect Cottam station and it was working with police to make sure everyone was safe.
Passenger services were not affected because the train was in sidings, Greenpeace said.
Cottam power station is between Lincoln and Retford, Nottinghamshire, and is close to West Burton power station, also run by EDF Energy.
The two plants are capable of generating enough electricity for about 7.5 million UK homes.