University of Nottingham laboratory fire probed by safety officers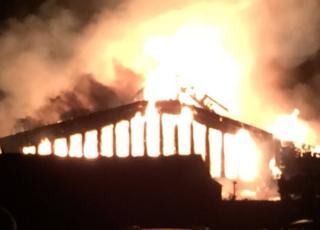 A fire which destroyed an unfinished £20m university building is being investigated by safety experts.
The University of Nottingham's wooden framed laboratory, designed to be carbon neutral, was wrecked by the blaze on 12 September.
The Health and Safety Executive said it was looking at construction working practices on site but stressed this was routine in such cases.
University bosses have already said the facility will be rebuilt.
The wooden framed structure had been completed and was due to open next year.
Sixty fire fighters were needed to put out the blaze at the GlaxoSmithKline building in Lenton 10 days ago. No one was hurt.
A spokesman for the HSE said: "We are working alongside the various other agencies involved in determining how the fire broke out.
"Because of the scale of the fire and the amount of damage, it is likely the investigation will take some time."
Contractors Morgan Sindall said: "The Health and Safety Executive are undertaking a routine, statutory role in investigating the recent fire at The University of Nottingham.
"The cause of the fire remains under investigation and no cause has been ruled in or out at this stage. We remain committed to assisting the investigation into the fire in whatever way we can."