Nottingham's Trinity Square re-opens after £700,000 revamp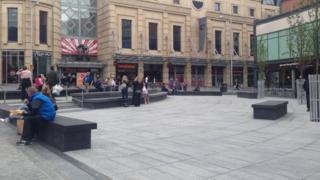 A city centre square which has undergone two revamps since it was built five years ago has reopened after a £700,000 overhaul.
Trinity Square in Nottingham was first transformed from a multi-storey car park in 2009 as part of a £70m scheme, which included new restaurant units.
However, it was criticised by the city council leader Jon Collins for being "ugly" and "unsuitable".
After seven months work to revamp the square it officially opened on Friday.
Jeff Allen, chairman of the Nottingham Business Improvement District (BID), said: "The original design was awful. It was a mess.
"I don't think it was a space that was useable.
"When it was redesigned one of the things we were keen to have was an area for performance and it is far more useable now."
A competition to find a new design was launched after the city council admitted it did not get the design for the square "right the first time".
It was won by Gustafson Porter, the architects behind Nottingham's award-winning Old Market Square redesign and work started in January.
Eric Dominey, who runs a shop near the square, said: "It looks great. There's more room and it just brings more people there to sit and have their lunch.
"It looks much smarter."
Shopworker Pat Mullett said: "I think it will work well for events, but I'm not quite sure about the design.
"Hopefully it will be used more and the re-design will be good for the other small businesses and bring in a lot more people to the area."