Nottingham parking levy camera plan prompts cost fears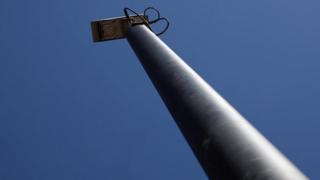 Plans for a fixed camera to monitor Nottingham's parking levy have been criticised as a waste of money.
The levy, started in 2012, charges firms for their parking spaces and it raised £8.45m for the city in 2013-14.
The Labour-run council currently uses car-mounted cameras for compliance, but wants to install a £66,000 fixed camera at Riverside Retail Park.
The Conservative group said it feared this would lead to more cameras in other parts of the city.
The levy is charged on businesses with 11 or more parking spaces. It was introduced to help pay for major transport projects - the tram system and refurbishment of the railway station.
---
Workplace Parking Levy
Introduced in 2012
100% firms compliant
Has raised £16.2m to date
Administration costs 5% of funds raised compared with 20% for London congestion charge
No time limit on continuation of scheme
(source: Nottingham City Council)
---
Initial estimates the charge would raise £10m were reduced to £8.7m and in the event it made £0.25m less.
The council said installing the fixed camera could be more cost-effective than the manned enforcement vehicle.
Leader of the city council's Conservative group, Georgina Culley, said: "I think it is throwing good money after bad and it is intended that if they regard this trial as being successful then they will introduce such cameras around the rest of the city.
"This won't be the last one we see or the last location. The parking tax is making less money than predicted and this is just an additional cost."
Jane Urquhart, the city council's portfolio holder for planning and transportation, said the council had chosen the Riverside site because parking areas were not specifically allocated to businesses.
The camera reads number plates from employees' vehicles.
"While it is a camera that works from a single place, it can be moved.
"So if this pilot shows it is a more effective enforcement we will then consider whether we need to buy more cameras or move this one," said Ms Urquhart.
She said said administration costs of the levy were already relatively low and she was "still confident" of raising the money required.
The Conservatives have secured time to discuss the pilot in front of the full council.