Nottinghamshire street light savings plan 'could cost £1.5m'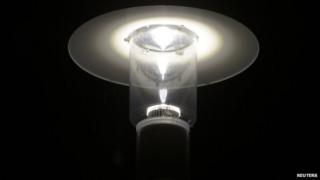 A scheme designed to save money on street lighting could end up costing a county council £1.5m, a report says.
In 2011, the Conservatives in Nottinghamshire scrapped routine repairs and switched to a system of only fixing lights when they failed.
A report by the county council's director of highways said returning to a regular maintenance programme would save about £1.5m in the long-term.
The Labour-run authority is set to discuss the matter next week.
'Haemorrhaging money'
Although the changes saved £500,000 for 2011/12, this dropped to £142,800 for 2012/13 and ended up costing Nottinghamshire County Council £153,235 for 2013/14, according to the report.
It also states the "reactive maintenance approach" was creating a backlog of repairs, with some lights taking up to three weeks to be fixed.
Returning to the original maintenance plan would cost about £600,000 to implement over two years.
Kevin Greaves, Labour's transport lead, said the authority was "haemorrhaging money" on fixing street lights.
"Routine maintenance should never be avoided as it will cost a lot, lot more in the long-run.
"If you don't maintain your car, you'll save money in the first and second year but come the third and fourth years, it is guaranteed to cost you money."
Richard Jackson, who is responsible for transport and highways for the Conservative group, said: "I think there's a problem in the way this has been implemented.
"It was quite a sensible policy in the first place... but it looks as if it has been badly managed."
The report and its recommendations will be discussed at a meeting on 11 September.