'Eva Braun' email row apology accepted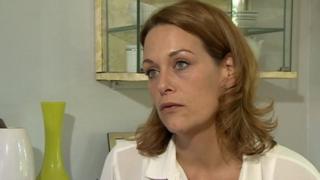 A German woman has accepted an apology from a councillor who compared her to Hitler's mistress.
Andy Cooper referred to Kat Boettge as Eva Braun in an email to fellow councillors in Kimberley, Nottinghamshire.
Ms Boettge, a Green Party member, had previously resigned from Kimberley Town Council (KTC) over concerns about its finances.
Mr Cooper, a Labour councillor, said his comment was "thoughtless".
Anna Soubry, the Conservative MP for Broxtowe, has called for Mr Cooper to resign but he has refused to do so.
Writing to Mr Cooper, Ms Boettge said: "After careful consideration of your public apology and Labour's reaction, I accept your apology.
"I believe that you were sincere and realised the gravity of offence caused.
"My concerns regarding KTC remain, and I would still ask you and other town councillors to join us in the upcoming by-election to give the community their democratic say in the matter."
Kat Boettge said what happened in Germany in World War Two was "absolutely outrageous" and German people "feel deeply ashamed and guilty about it".
She said her grandmother helped hide Jewish runaways fleeing a train to a concentration camp, while her grandfather was a pacifist who surrendered to the Russians to avoid fighting for Germany.
She previously said: "To be called Eva Braun, I consider that racist and from someone in a public office, that is not acceptable at all."