'Eva Braun' email row councillor refuses to resign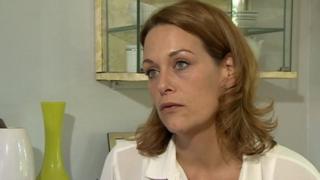 A councillor who compared a German colleague to Hitler's mistress has publicly apologised, but refused to resign.
Andy Cooper referred to Kat Boettge as Eva Braun in an email to fellow councillors and the town clerk of Kimberley Town Council, in Broxtowe, Nottinghamshire.
Ms Boettge wants him to resign as both a town and borough councillor.
Mr Cooper said he was neither racist nor xenophobic.
"It was a moment of weakness and it was a stupid thing to say," said the Labour councillor.
He said he had been "very angry" when he sent the email.
"I have apologised twice. I don't think I can do any more, but I'm certainly not resigning."
Mr Cooper originally apologised to her in a personal email on Saturday, but she refused his apology, saying he had "not understood the gravity of the offence caused".
In his second apology, sent on Monday, Mr Cooper said he had been "reprimanded" by the leader of his political group and instructed to attend a diversity course.
Anna Soubry, the Conservative MP for Broxtowe, has also called for Mr Cooper to resign.
Milan Radulovic, the Labour leader of Broxtowe Borough Council, said the Eva Braun comment had been "cynically exploited for political purposes".
"It's got nothing to do with the issue of racism," he said.
"Racism is an extremely serious issue; I myself have been subject to this over many years.
"I remember when I was first elected I was actually sent a letter with razor blades in as my greeting to being a councillor."
Of the Eva Braun matter he said: "This is a sort of political correctness gone mad."