Fly-tipping rise leads to CCTV in Gedling area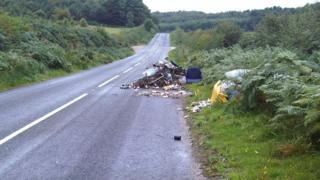 CCTV cameras have been installed along country lanes in parts of Nottinghamshire after 44 fly-tipping incidents were reported in 10 days.
Gedling Borough Council said there has been a sharp increase in rubbish, including tyres, mattresses and asbestos, being dumped.
In some cases the incidents took place not far from a recycling centre and cost about £2,000 to clear.
The authority said patrols would increase around hotspot areas.
Councillor John Clarke, leader of Gedling Borough Council, said: "Fly tipping will not be tolerated and we must do everything in our power to catch the perpetrators.
"Clearing up these incidents costs the taxpayer and when it's within a mile of a recycling centre and business waste facilities, there is simply no excuse for this behaviour."
The council warned that the maximum fine for anyone caught fly-tipping is £50,000 and could even lead to imprisonment.