Nottingham's first free school opens in Sherwood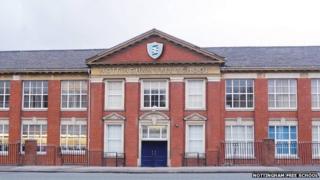 The first free school in Nottingham has opened with an intake of about 100 year seven pupils.
Nottingham Free School has opened in part of a former factory in the Sherwood area.
Nottingham East Labour MP Chris Leslie hoped the secondary school would be a success, but said he had "an anxiety" about money being diverted to free schools.
The school said it was set up because of "overwhelming" demand from parents.
The secondary school said it could not give "a definitive answer" on how much it had cost, while the Department for Education said the figure was not yet publicly available.
Head of school Jenny Brown said: "The most important thing is that students have excellent education and that's what we are here to provide.
"We are part of an established academy group that already provides excellent education for children and so we are continuing to do that."
Mr Leslie, who is Shadow Chief Secretary to the Treasury, raised concerns about free schools in May, describing them as "expensive, half-empty and underperforming".
Speaking about Nottingham Free School, he said: "I hope it's a success. I hope all schools are a success. I don't want any of them to fail.
"I just have an anxiety though, and it's basically because I want the schools to be coordinated properly, I want investment to go where it's most needed."
---
What is the difference between academies and free schools?
Academies and free schools are state-funded schools run outside of local authority control
They receive funds directly from the Department for Education, instead of through a local council
A free school is a type of academy that can be set up from scratch by groups including charities, parents and faith groups
Academies are typically created by "converting" existing schools, so the school can have more freedom in how it is run
Some failing schools become "sponsored" academies, where a school has an outside sponsor to help raise standards or where they are part of a chain of academies
Read more about different types of schools.
---