Kimberley councillor's 'Eva Braun' email prompts outcry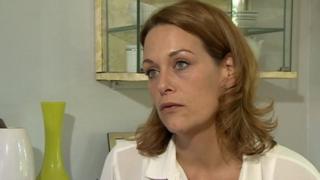 A councillor is facing calls to resign after comparing a German-born ex-colleague to Hitler's mistress.
Andy Cooper, Labour member of Kimberley town council in Nottinghamshire, referred in an email to former town councillor Kat Boettge as "Eva Braun".
The Conservative MP for Broxtowe, Anna Soubry, said he should step down for what she called a "highly offensive and racist comment".
Mr Cooper has apologised but Ms Boettge has refused to accept his apology.
Ms Boettge, a Green Party member, had recently resigned over concerns about council finances.
Racism denial
She said: "What happened in the Second World War in Germany was absolutely outrageous and we feel deeply ashamed and guilty about it.
"To be called Eva Braun, I consider that racist and from someone in a public office, that is not acceptable at all."
Mrs Soubry said: "I was genuinely shocked and horrified by it. He has picked on Kat because of her race and he has used about as offensive a description of someone who happens to be born in Germany as you could possibly imagine.
"It was dreadful."
Mr Cooper, who also represents the Cossall & Kimberley ward for Broxtowe Borough Council, declined to be interviewed but admitted it was a "stupid thing to say" and emphasised he had apologised without reservation. He also denied any suggestion he was a racist.
The leader of Kimberley Town Council, David Nunn, declined to comment but said the authority's decision making was always open and publicly accountable.
Eva Braun was Adolf Hitler's partner through World War Two and married him shortly before their joint suicide on 30 April 1945.