Gamston Wood dumped fox cubs 'may have been gassed'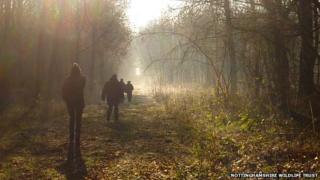 Nine dead fox cubs have been found dumped at a Nottinghamshire nature reserve.
The animals were found by a member of the public at Gamston Woods Nature Reserve, near Retford, Nottinghamshire Wildlife Trust said.
The group's spokesman, Erin McDaid, said the cause of death in some cases was likely to have been by gassing as there were no other obvious injuries.
Gassing is effectively illegal as a form of fox control in England.
Mr McDaid said: "We haven't done any official tests but we know [gassing] is a method that some people use.
"We are shocked by this incident but sadly we have observed an increase in our workload relating to wildlife crime in recent months.
"It is important that prosecutions are sought to ensure the law regarding the illegal persecution of wildlife is upheld."
Rural fox control
Shooting and trapping is legal but non-lethal means are encouraged
Snares can be used but must be inspected at least once a day
The use of bows and crossbows to kill foxes is prohibited
It is illegal to place poison baits with the intention of killing foxes
Blocking or destroying dens could be considered an offence under the Wild Mammals (Protection) Act 1996 if occupied
*Source: Natural England
The RSPCA has described it as a "shocking incident" and have urged anyone with any information to contact Nottinghamshire Police.
According to the Agriculture Act 1947 the use of a gas is allowed, in a den, to kill foxes.
However, there are currently no products that are registered under the Control of Pesticide Regulations Act 1986.
Natural England concludes that introducing a gas into a fox den is therefore illegal.
Nottinghamshire Wildlife Trust has also highlighted the illegal digging of a badger set in Bassetlaw and the destruction of bird nests on development sites.