Newark Hospital to get new CT scanner after NHS U-turn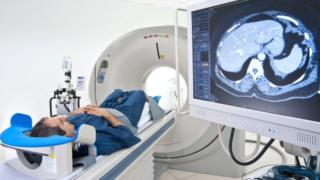 A new £500,000 CT scanner will be installed at a Nottinghamshire hospital after a campaign against the removal of the previous one.
The campaign group Say Yes to Newark Hospital had opposed the replacement of the old scanner with a mobile unit.
The Sherwood Forest Hospitals NHS Foundation Trust said it had "re-evaluated" its position.
Campaigner Francis Towndrow said 5,000 people had signed a petition opposed to the removal of the old equipment.
Staff 'passion'
Trust chief executive Paul O'Connor said: "We listened to our staff, our patients, Robert Jenrick, the MP for Newark and to the readers of the Newark Advertiser when they asked that we consider the option for a static CT scanner at Newark.
"The earlier decision (to install a mobile unit) felt like the right decision…at the time.
"But we were really struck by the passion and commitment of our staff to develop Newark as a centre of excellence.
"We are looking to our stakeholders to support us in this bold venture by encouraging more patients to use the service. We need Newark people to choose Newark Hospital as much as they possibly can."
Mr Towndrow said: "You can imagine somebody having the symptoms of a stroke in the hospital being wheeled out of the main building in the rain up the steps of a mobile scanner - it was a dreadful situation to comprehend.
"We hope to see the return of more services to Newark - most importantly we need to see the upgrading of the minor injuries unit - and to see this happen we need to see the diagnostic equipment in place like this CT scanner."